INTEGRA™ Matrix Wound Dressing is an
advanced wound care device comprised of a
porous matrix of cross-linked bovine tendon
collagen and glycosaminoglycan. The collagen-glycosaminoglycan biodegradable matrix provides
a scaffold for cellular invasion and capillary growth.

The product may be used in combination with
INTEGRA™ Bilayer Matrix Wound Dressing.



INTEGRA™ Matrix Wound Dressing

is supplied sterile, in single use, double peel packages containing phosphate buffer. Store flat at room temperature. Avoid excessive heat (greater than 40°C). Avoid freezing.

---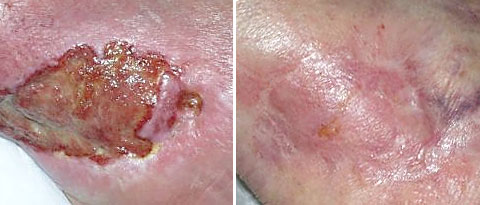 INTEGRA™ Matrix Wound Dressing:
Provides immediate wound coverage

Highly conformable for various anatomical sites

Excellent performance in deep donor sites

Can be used in combination with

INTEGRA™ Bilayer Matrix Wound Dressing



Room temperature storage

Long shelf life



Patients can begin rehabilitation with

INTEGRA™ Matrix Wound Dressing

in place


Provides coverage over exposed bone, tendon, cartilage and joints. Of 166 instances
of exposed internal structures that are ordinarily closed with flaps, Integra closed 90%
of them. (1)




(1) Gottlieb, Marc, M.D. and Jennifer Furman. Successful Management and Surgical
Closure of Chronic and Pathological Wounds using Integra. Journal of Burns & Wounds,
2004, Volume 3, No. 2