Kerlix fluffs are being
used to ensure INTEGRA™ Matrix Wound Dressing is in complete contact with the wound bed
Fixation and compression are of significant importance. Elastic bandages, padded "tie-over" dressings, vacuum devices, splints and other methods, depending on the circumstances, should be used. This ensures that the INTEGRA matrix adheres to and is in complete contact with the wound bed and prevents shearing and hematoma or seroma formation.

Inspect for hematoma and seroma formation upon dressing changes


Dressings can be attached by staples or other suitable methods. They will be left in place until the scaffold is remodeled and offers the following advantages:

- Helps prevent dislodgement

- Keeps INTEGRA™ Matrix Wound Dressing in intimate contact with the wound bed



Apply non-adherent absorbent dressings as the inner dressing layer


Use topical antimicrobials such as silver impregnated dressings to help maintain a bacterial barrier over INTEGRA™ Matrix Wound Dressing

---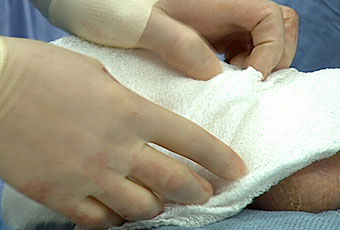 In this case, cotton cast padding followed by a bias stockinet and total
contact cast was used to ensure INTEGRA™ Matrix Wound Dressing
remained in contact with the wound bed

Outer Dressings
Apply outer absorbent dressings

Use anti-shear dressings


Use bolsters where appropriate

- Keeps INTEGRA™ Matrix Wound Dressing in intimate contact with the wound bed

- Protects INTEGRA™ Matrix Wound Dressing from shearing and detachment

Use bandages to apply slight pressure over outer dressings

Immobilize joints and limbs (e.g., by splints and casts) to prevent dislodgement
Note:
Do not let Dakins Solution, petroleum-based products, e.g., Xeroform, or enzymatic debridement agents, (e.g., Collagenase), come in contact with the INTEGRA™ Matrix Wound Dressing application sites.

Use splints or bolsters, per unit protocols, during first 5-7 days. Splints should be applied and should stay on at all times (except when performing wound care).

The VAC (Vacuum Assisted Closure)* may be used over INTEGRA™ Matrix Wound Dressing sites, in particular, as a bolster dressing for difficult anatomical sites or wound beds, such as the axilla.
Note: Please use a non-adherent dressing (e.g., ADAPTIC®, Mepitel®} over the INTEGRA when using the VAC.
*VAC is a registered trademark of Kinetic Concepts, Inc. (KCI)
ADAPTIC is a registered trademark of Johnson and Johnson
Mepitel is a registered trademark of Molnlycke Health Care