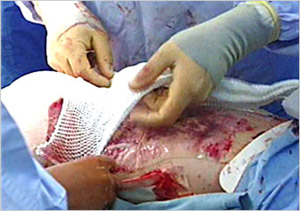 Some modifications of the normal burn unit protocol may be required. The following techniques have been utilized:

Place an elastic net dressing over the INTEGRA® Template site

Build dressings in layers

Check under dressings more frequently

The elastic net dressing can be attached by staples or other suitable methods. It will be left in
place until the silicone is removed

- Helps prevent dislodgement

- Keeps INTEGRA® Template in contact with excised wound bed

- Easy to see through for observing Neodermis

When applied correctly, the expanded interstices will be open about 1-2 cm and the silicone
will have slight indentations from the elastic net dressing

Apply non-adherent absorbent dressings as the inner dressing layer

Use topical antimicrobials such as silver impregnated dressings to help maintain a bacterial
barrier over INTEGRA® Template

---


Outer Dressings
Apply outer absorbent dressings

Use anti-shear dressings


Use bolsters where appropriate

- Keep INTEGRA® Template in intimate contact with the graft bed

- Protect INTEGRA® Template from shearing and detachment

Use bandages to apply slight pressure over outer dressings

Immobilize joints and limbs (e.g., by splinting) to prevent dislodgement
Note:
Do not let Dakins Solution, petroleum-based products, e.g., Xeroform, or enzymatic debridement agents, (e.g., Collagenase), come in contact with the INTEGRA® Template grafted sites.

Use splints or bolsters, per unit protocols, during first 5-7 days. Splints should be applied in the OR and should stay on at all times (except when performing wound care).

The VAC (Vacuum Assisted Closure)* may be used over unmeshed or meshed INTEGRA® Template sites, in particular, as a bolster dressing for difficult anatomical sites or wound beds, such as the axilla.
*VAC is a registered trademark of Kinetic Concepts, Inc. (KCI)