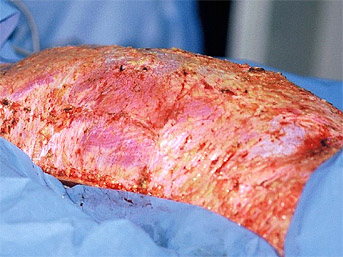 Graft Bed Requirements
Remove all non-viable tissue from wound bed - eschar, necrotic, devitalized and contaminated tissue

If wound infection is detected, treat topically and/or systemically according to burn unit protocols

It is preferable to have a "safety" between the INTEGRA® Template and the remaining burn eschar. The "safety zone" should be 2-4 centimeters wide and the excised zone is then covered with one of the following: allograft, xenograft, TransCyte*, Biobrane**, Acticoat*, 5% sulfamylon soaked gauze, 0.5% silver nitrate soaked gauze. The safety zone is left in place until the patient is brought back and the remaining eschar is excised.
*TransCyte and Acticoat are trademarks of Smith & Nephew.
**Biobrane is a registered trademark of Bertek Pharmaceuticals Inc.