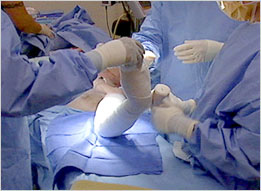 Dressing the INTEGRA® Template in the OR
Build dressings in layers. Each layer has an important function:
Fixation Layer - Elastic net dressing for intimate contact. This will help minimize shearing of the INTEGRA® Template from the bed and/or hematoma formation

Antimicrobial Layer - Acticoat*, Silver Nitrate 0.5% or Sulfamylon Solution 5% soaks to prevent infection

Bulky Dressing Layer - Bulky gauze for protection and antimicrobial retention

Compression Layer - Compression bandage for protection and anti-shear properties

Anti-Shear (Optional) - An additional anti-shear layer is sometimes used

Note:
Do not let Dakins Solution, petroleum-based products, e.g., Xeroform, or enzymatic debridement agents, (e.g., Collagenase), come in contact with the INTEGRA® Template grafted sites.

Use splints or bolsters, per unit protocols, during first 5-7 days. Splints should be applied in the OR and should stay on at all times (except when performing wound care).

The VAC (Vacuum Assisted Closure)* may be used over unmeshed or meshed INTEGRA® Template sites, in particular, as a bolster dressing for difficult anatomical sites or wound beds, such as the axilla.
*Acticoat is a trademark of Smith & Nephew.
*VAC is a registered trademark of Kinetic Concepts, Inc. (KCI)