| | |
| --- | --- |
| Inspection and Care of Neodermis | |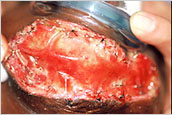 During the early stages of Neodermis development take note of the following:
If elastic net dressing was used, leave in place and do not remove staples or sutures

Take down all dressings to the elastic net layer to inspect INTEGRA® Template sites, seams, and edges for evidence of hematomas, fluid accumulation, infection/purulence, premature silicone layer separation, and areas of non-take. Inspection may be performed through interstices of elastic net dressing (do not remove unless necessary).

Re-moisten antimicrobial dressings after INTEGRA® Template inspection. Irrigation tubing can be used to re-moisten or re-apply without removing dressings.

Re-moisten or re-apply antimicrobial dressing as needed, typically every twelve hours, or more often for dry climates

Replace or change new antimicrobial dressing at least every three days

During week 2, change dressings every other day. In week 3, dressings should be changed
every third day.
When removing dressings to inspect INTEGRA® Template sites, care should be taken to avoid dislodgement. As you gain experience with INTEGRA® Template, your frequency of inspection
and dressing changes is likely to change from this schedule.
Movement / Outpatient Care

As shearing will result in the NON-TAKE of INTEGRA® Template, the goal for the staff and patient is to minimize these forces on the INTEGRA® Template site. Bolsters, splints and Ace Wrap compression (an important outer dressing during the first 24-48 hours) will help protect from friction and shear of INTEGRA® Template from the excised bed.