Anti-Shear Technique: "X-Ray Film"

This is an excellent technique to use on high-risk posterior areas of the patient.
Place chest x-ray film in plastic bag

Straight lift patient and place bag with film under patient, between bedding and sheet

Plastic encased film provides good non-friction, point-to-point contact between patient and bed
As with any technique, it is necessary to have sufficient manpower to facilitate the process.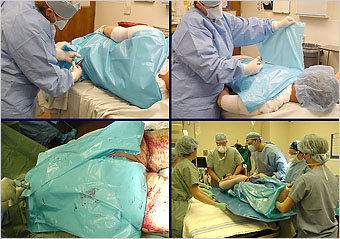 Anti-Shear Technique: "Plastic Slide"

In cases involving high risk shear areas such as the posterior, additional anti-shear techniques can be used. The "Plastic Slide" technique is an example of a creative technique that will reduce the effect of friction on a patient that is being moved or positioned. There are variations on the plastic covering used
in this technique. Some centers have used a Mayo stand cover, a plastic garbage bag, or a plastic drape.