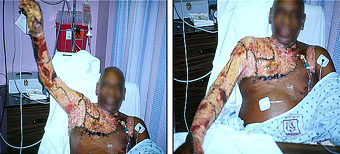 The benefits of physical therapy on the recovery of the burn patient are well-known. Your PT/OT
should develop a physical therapy plan in consultation with the rest of the burn care team.
Gentle range of motion (ROM) exercises can begin between post-operative days (POD) 5-7

If complications have delayed healing or the INTEGRA® Template is not firmly adhered to the wound bed, delay ROM accordingly. The decision to remove bulky dressings, bolsters or splints to perform ROM exercises must be made on a case-by-case basis under consultation with PT/OT. Care must be taken to minimize the risk of shearing.