| | |
| --- | --- |
| Complications - Areas of Non-Take | |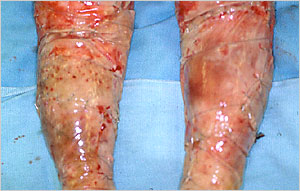 Areas of incomplete INTEGRA® Template take can result from mechanical dislodgement (due to shear, improper splinting, PT), infection, hematoma, granulation tissue formation, premature silicone separation or damaged matrix. Identification of poor INTEGRA® Template take is characterized by poor color and
lack of adherence. The matrix will move laterally under finger pressure.
Intervention:
Small areas (under 2 sq cm) should be monitored for infection but not removed until time of epidermal grafting


Large areas (over 2 sq cm) should be removed and treated by either:

1. Re-application of new INTEGRA® Template, or

2. Application of a split-thickness skin graft